Autism Awareness: America and Local Communities
Posted: in
As the prevalence of autism continues to rise in the US, the need for awareness, support, and understanding becomes increasingly important. This article provides insights into the prevalence of autism in America, federal and state programs for individuals with ASD, the needs of adults with autism, and the importance of community outreach programs in supporting individuals with ASD.
World Autism Awareness Day: The Light It Up Blue Campaign
World Autism Awareness Day falls on April 2nd each year and is part of the larger World Autism Month observance. The observance includes hundreds of thousands of landmarks, signs, homes, and buildings worldwide being swathed in light blue to recognize people living with autism.
Many educational activities and events will take place to foster understanding and promote acceptance of autism spectrum disorder, or ASD, and of course, fundraising will intensify to endow growing research challenges to meet the needs of this highly individualized disorder.
Prevalence of Autism in the U.S.
The prevalence of autism is on the rise in the US. Because the condition first manifests itself before the age of 3, the majority of people, boys and girls, receiving a new diagnosis are under the age of 6.
The Centers for Disease Control and Prevention (CDC) now estimates that autism affects 1 in 36 children in the United States. Based on data collected, that number has been steadily increasing in the past decade.
The Definition of ASD and Range of Severity
Autism spectrum disorder (ASD) refers to a broad range of behavioral conditions that include challenges with social skills, speech, and nonverbal communication as well as repetitive behaviors.
Autism is a very plural condition as there are many subtypes, primarily influenced by the environmental and genetic factors and has varying degrees of severity of intellectual disability. Individuals coping with autism have distinct sets of strengths and challenges.
That is why people are characterized as being on an autism spectrum because the individual scale of learning, thinking and problem-solving skills can range from highly skilled to severely challenged.
Some who are diagnosed with autism spectrum disorder (ASD) may be able to live entirely independently while others may require some to significant support services in their daily lives.
Support for Individuals with Autism Spectrum Disorder
Adults with Autism Spectrum Disorder (ASD) require support and awareness just as many children do. However, there remains a gap in awareness and support for adults with ASD.
Outreach programs are essential in supporting individuals with ASD as they transition to independent living beyond the average age of 22. As always, families, caregivers, and communities play a crucial role in helping them navigate and thrive in a complex world.
Federal and State Programs for Children and Young Adults with ASD
Federal and state programs offer resources and help assist families with children and young adults who have ASD. The Individuals with Disabilities Education Act (IDEA) federal law outlines rights and regulations for U.S. students who require special education in school. The US Department of Education website outlines the basics of IDEA in simple terms.
Challenges Faced by Those Living with ASD
Are these services available until the young adult reaches the age of 22 and then what? There is a vast continuum of diagnosed and undiagnosed adults who are struggling to make sense of life while living with ASD.
Autism Speaks is an organization that calls on legislators and public health agencies like the National Institute of Health to promote research and advancements in understanding the increased prevalence of and complex medical needs that often accompany a person with autism.
There has recently been a call to double the budget to advance research and create policies that better provide individual support and services as autistic children transition to adulthood and need employment and residential options.
The Gap in Awareness and Support for Adults with ASD
For most children and people afflicted, autism is a lifelong health condition and there is an unacceptable gap in our awareness of their needs particularly as children age out of federal school programs at 22 and are left to struggle with areas of basic life skills such as employment, housing, and social inclusion.
Any child with autism will eventually become an adult with autism. While some autistic adults become very successful, even famous for their success in arts and sciences (Albert Einstein, Dan Aykroyd, and others) others languish in their inability to navigate a complex world.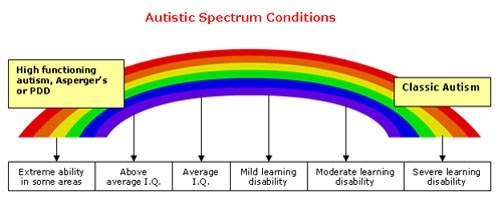 www.quora.com/Is-there-a-good-visual-map-or-chart-showing-the-ASD-spectrum
Basic Needs of Adults with Autism: Friendship, Support, and Opportunity
Wherever an adult finds themselves in the autism spectrum, there are specific basic needs which mirror those adults without the challenge of ASD, and they are friendship, support, and opportunity. The mechanisms and interpretation of communication may differ, but the human need is the same.
Reliance on tax-funded programs is not always the best way to approach the needs to sustain them as funding and programs come and go. The real solution to meet the needs of adults with autism is essentially the same as the needs of children with autism.
The Importance of Community Outreach Programs
It is crucial for families and communities to assist individuals with developmental disabilities like ASD, to navigate the challenges of everyday life. Identifying signs of autism early on can benefit affected individuals, as access to applied behavioral analysis and occupational therapy can aid in their development.
Older parents, socioeconomic groups, and various other factors have been identified as potential risk factors that affect the occurrence of autism. Individuals with autism may exhibit certain characteristics that make it difficult for them to communicate and ensure their own safety, which is why therapies and community outreach programs have become crucial sites for their involvement.
Providing support and understanding can help individuals with autism overcome challenges and unlock their potential to live independently and successfully.
Have Questions or Need More Information About ASD? Contact Elder Law Lawyers
Are federal and state programs available? Are there community outreach programs that help young adults transition to independent living past the age of 22? Adults with autism differ from one another just as it is for children on the spectrum. If you have questions or would like to discuss your particular situation, please don't hesitate to reach out.